Last month was my 22nd birthday. I initially planned not to do much ad just have a low key affair, but by the divine forces that be, it turned out to be one of the busiest birthdays of my life!
Thursday 20th September – My Birthday
On my actual birthday, I went to a really cool restuarant in Tottenham Hale called The Lock. It was a huge surprise to find such an up market place in an area like Tottenham. The food was very high class gormet, and is a signal for things to come in Tottenhm Hale area. Regeneration, and easy access to tube and train services is making it a growing hotspot for young professionals.
Friday 21st September – PARTY!!!!!!
On Friday I went to The Loop Bar, off Oxford Street, for a great night out with friends dancing and having fun.
It was a really good night.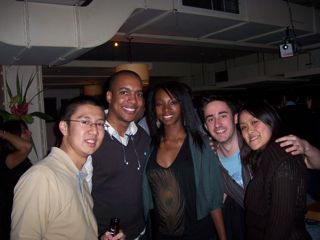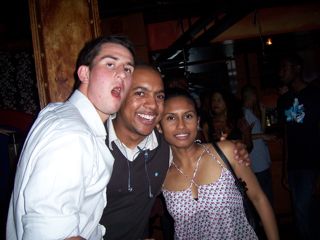 Saturday 22nd September
On Saturday the partying continued as I went to Guanabara Bar for some sexy salsa latino fun. Its quite a small venue but they had live music and Caperara fighters performing which was cool.
Sunday 23rd September – Branding Begins
And here's your host – I AM! lol
Yes on Sunday I went to a gig to raise money for batteling arms trade corruptio which featured a lt of different stand up comedians. But to be honest the high light of the show was those Crazy Rotting Tooting Cowboy Booties, err yeah and Russell Brand was pretty cool too. Heres a clip:
Russell Brand performs his stand up at comedy benefit on 23rd September 2007. Apologies for wobbly camera and occasionally loud laughter. You should still be able to hear everything he is saying though 🙂
Monday 24th September – SLEEEEEEEEEEEEEEP ZZZZ
Tuesday 25th September – GTA Ponders End
Tuesday was totally unplanned, and quite a sureal day. I met up with some of m very old and dear friends, to which one of them took us on a dodgey ride of waiting for around in Tesco car parks for packages, sneaking up to houses and war driving just to name a few. better not say anymore…..
Wednesday 26th Spetember – CARDIFFFFFFFF
Gwen talking to the audience before 4 in the mornin
On wednesday I went to Cardiff to see Gwen Stefanni.
Cardiff is pretty small for the capital of Wales. I wasnt very impressed, and the parking was terrible, it took nearly an hour to get out the car park, because its so badly designed. Gwen Stefani was cool tho, I liked the fact she said "where am I? why am I in wales?" and the crowd kept cheering nether the less bless.
Thursday 27th September – TRANSMISSION>>>>>
On Thursday I got invited to goto a secret gig at King Cross for T-mobile Transmission. Mutya, CSS and some other bands were there, with free booze and nice music, it turned out to be a great night.

Friday 28th September – BRANDED FOR LIFE
My ultra super dooper dose of brandom was given to be on friday when I went o Russell Brand's live gig at the Hackney Empire. It was brilliant, he did the fonejacker gag, even Mr Gee and Matt Morgan were there, I did think he generalised his stand up a bit, which is to be expected I suppsoe to reach a bigger audience, but I think he should make more refernce to his Radio show topics and then it would be award winning.